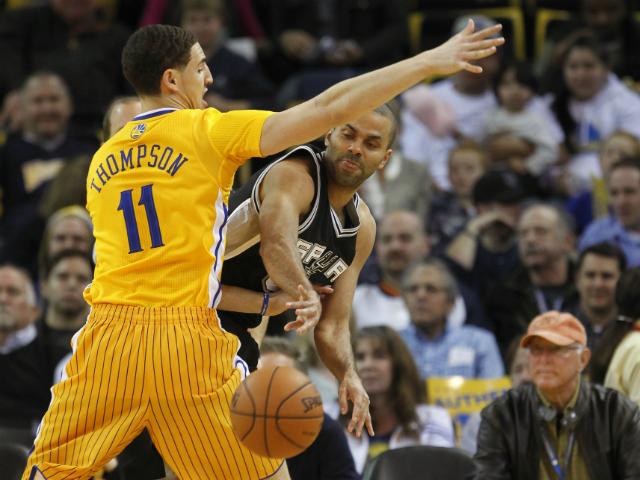 The Spurs ought to have been careful for what they had wished for, feeling confident after two strong wins against rivals OKC Thunder and LA Clippers as they headed into the second showdown of the season with the top seed, Steph Curry-led Golden State Warriors.
No player on the Spurs could throw a pebble in the ocean in this game, killing any hope for team flow on the court, and much credit is due to Golden State's defense. Out of Steph Curry, Klay Thompson, Kevin Durant and Draymond Green, none of the away team's stars had any 'spectacular' performance, but they didn't need to. The Spurs were simply not up to the task. What most fans and the Spurs themselves had foreseen as another close breakneck contest quickly dissolved into a one-sided rout of the defending champions. The collective groan of the San Antonio crowd inside the AT&T Center sounded when the Spurs were down by
30 POINTS
in the third quarter.
Danny Green, Kawhi Leonard, even Pau Gasol--nobody could get rolling and score the ball. Then foul trouble ensued and Gasol actually fouled out of the game before the 4th quarter even started.
The response?
"I've gotten in trouble for it before, but it's time to look at the bigger picture here," Coach Popovich said after the game, deciding to fully implement a resting rotation change as the playoffs loom in the distance, referencing the controversy when he was fined by the NBA for resting his stars during a national T.V. game a couple of years ago. The Spurs sit just above the OKC Thunder with 52 wins, ten less than the mighty Warriors, but should be fine moving forward. "I want the rest of our guys to close out the season, produce consistently, let them see what they can do to help us, get them locked in--'cause they gotta be ready when I call for 'em." Popovich undoubtedly speaking most about Michael Carter-Williams, Dewayne Dedmon, Thaddeus Young, David Lee, Kevin Garnett.
The Spurs lost to the Charlotte Hornets on the road after the devastating blowout, but recuperated with home wins against the Miami Heat and Memphis Grizzlies. The Spurs head into the next game against the OKC Thunder sporting a lineup of:
PG: Tony Parker (limited minutes)
SG: Michael Carter-Williams
SF: Josh Smith
PF: Thaddeus Young
C: Dewayne Dedmon
We'll see how it fares against the machine that is Russell Westbrook, but knowing Coach Pop, he's going to stick to the plan no matter the results. "Our stars need to be ready, have a full tank, 'cause with teams like the Warriors out there, we gotta be ready for them when it matters most." Expect to see Jordan Farmar and even Shane Larkin, Tayshaun Prince get more burn on the court.