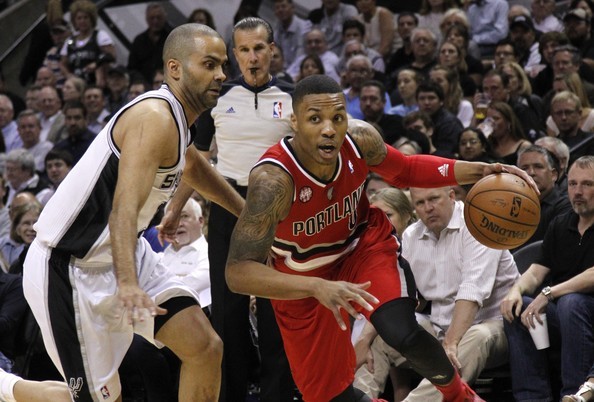 The San Antonio crowd rocked their Spurs gear in unison, an ocean of white, gray and gold aspirations as the playoffs got underway against the offensive firepower of the Portland Trail Blazers, starring Damian Lillard and CJ McCollum.
In Game 1, the Spurs led by as much as 21 points, firing on all cylinders with full tanks all around, breaking out to an early lead. The fiery Blazers would rally late and make things interesting, but fall just short, losing 121-126, leaving the Spurs with a lasting impression to not let up on this hungry squad.
The Spurs had 6 blocks as a team, 8 steals, and outscored Portland 37-26 in the first period.
Kawhi "The Claw" Leonard proved his status as the new appointed court general, leading the way with 26 monster points, 6 rebounds, 4 assists and 2 steals.
Manu Ginobili had a strong showing with 19 points off 5 three-pointers. Michael Carter-Williams scored nicely with 17 points and 5 assists. Pau Gasol and Danny Green combined for 32 points and Tony Parker had 8 points. Every Spur that touched the floor scored in this promising win.
In the loss, Damian Lillard surged to 27 points with 12 assists and CJ McCollum had 22 points. Al-Farouq Aminu had 21 points with 8 rebounds, Evan Turner had 16 as did Myers Leonard.