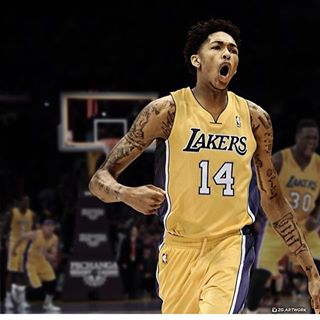 The Lakers visited the Alamo City tonight and left with a bruised ego and some bruises too. D'Angelo Russell had a tough night, turning the ball over to the feisty Spurs defense all night long and struggling to convert at the basket on drives. He rose to 21 points, but on ugly 6-22 shooting with 10 turnovers. Lou Williams had 15 points off the bench, but Jordan Clarkson struggled. Tarik Black had 15 rebounds as well.
#2 pick Brandon Ingram played well lost in the shuffle, although his shot isn't quite there yet, missing some open jumpers to smear an otherwise quality performance. Kawhi Leonard also muscled his way over the lean rookie at times, exposing his strength or lack thereof, but to his credit, Ingram didn't let Kawhi get open shots either. Ingram finished with 23 points, leading the purple and gold squad. He also had 7 rebounds and 1 block (10-19 FG%).
Meanwhile, the Spurs cruised to their 6th consecutive victory. Danny Green went 5-6 from the field and was arguably fouled on his final attempt from distance, but finished with 24 points earning player of the game honors, as the Spurs finished with 12 total blocks on the night.
Kawhi Leonard had 18 points on 6-11 shooting. Tony Parker had a good game to mark possibly his first good showing of the seasons so far, showing his range that has been missing so far this season. Tonight he knocked down 4 three-pointers. Manu Ginobili had 13 points. At one moment, the Spurs picked off three steals in a row and rushed onward for three easy dunks at the rim, earning approval from Coach Popovich.
Tayshaun Prince nailed 3 long balls off the bench, David Lee had 8 points, and the bench allowed the stars to take it easy tonight as the season grinds onward. The Spurs won 118-104, including 36-27 3rd quarter dominance.